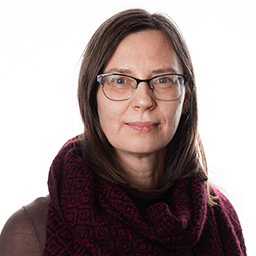 by
Daina Tupule
Explore Insight Asset Management Data with eazyBI
eazyBI has supported data integration with Insight Server and Data Center for years. Starting from the eazyBI version 6.2, we've added some improvements. Now Insight is also available in Jira Cloud. You can add an additional "layer" of data in your Jira reports by adding Insight custom fields, Insight objects, object attributes, and relationships.
In this article, we'll review a couple of use-cases so you can start building reports based on Insight data. If you prefer a more in-depth review, feel free to watch the Insight and eazyBI webinar recording, covering the integration between eazyBI and Insight and several useful use-cases.
Insight data model
Insight is a very powerful app providing a wide variety of use-cases. Among the most common ones is a Configuration Management Database (CMDB) which is a part of Jira Service Management.
In this article, I will use a CMDB use-case as an example. We'll use a simple setup with two object types Asset and Model.
Here is one Asset: a laptop for a user (owner) Cassy.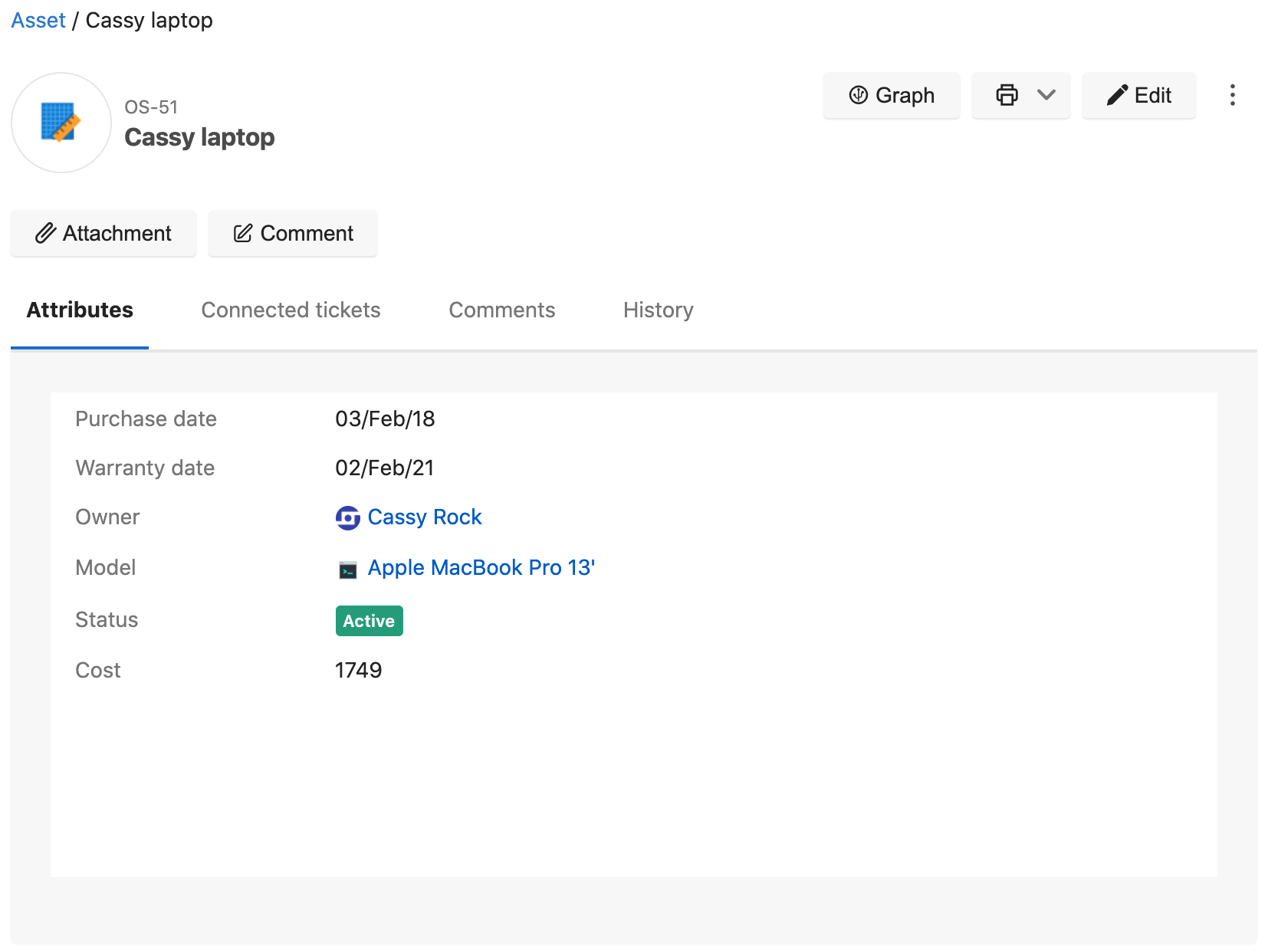 Another object type is a Model. In this example, I have only one attribute: a Category. You could use more if needed.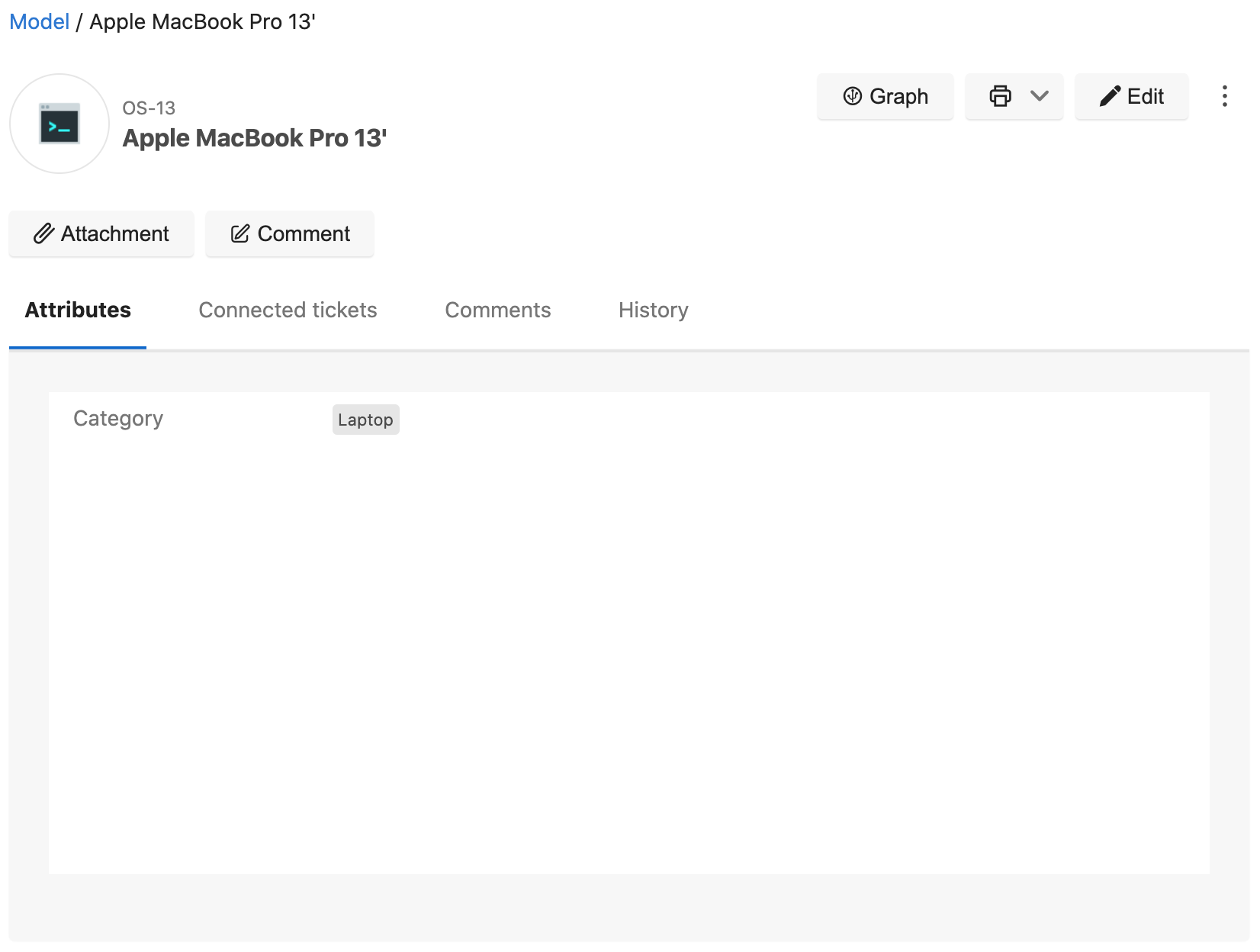 Insight Asset type custom fields let you track your asset lifecycle from the date of purchase to related incidents and upgrades until the end of its use.
As you can see in the screenshot below, there are several Insight custom fields linked to this ticket. One of the linked Insight custom fields is an Asset: "Cassy laptop".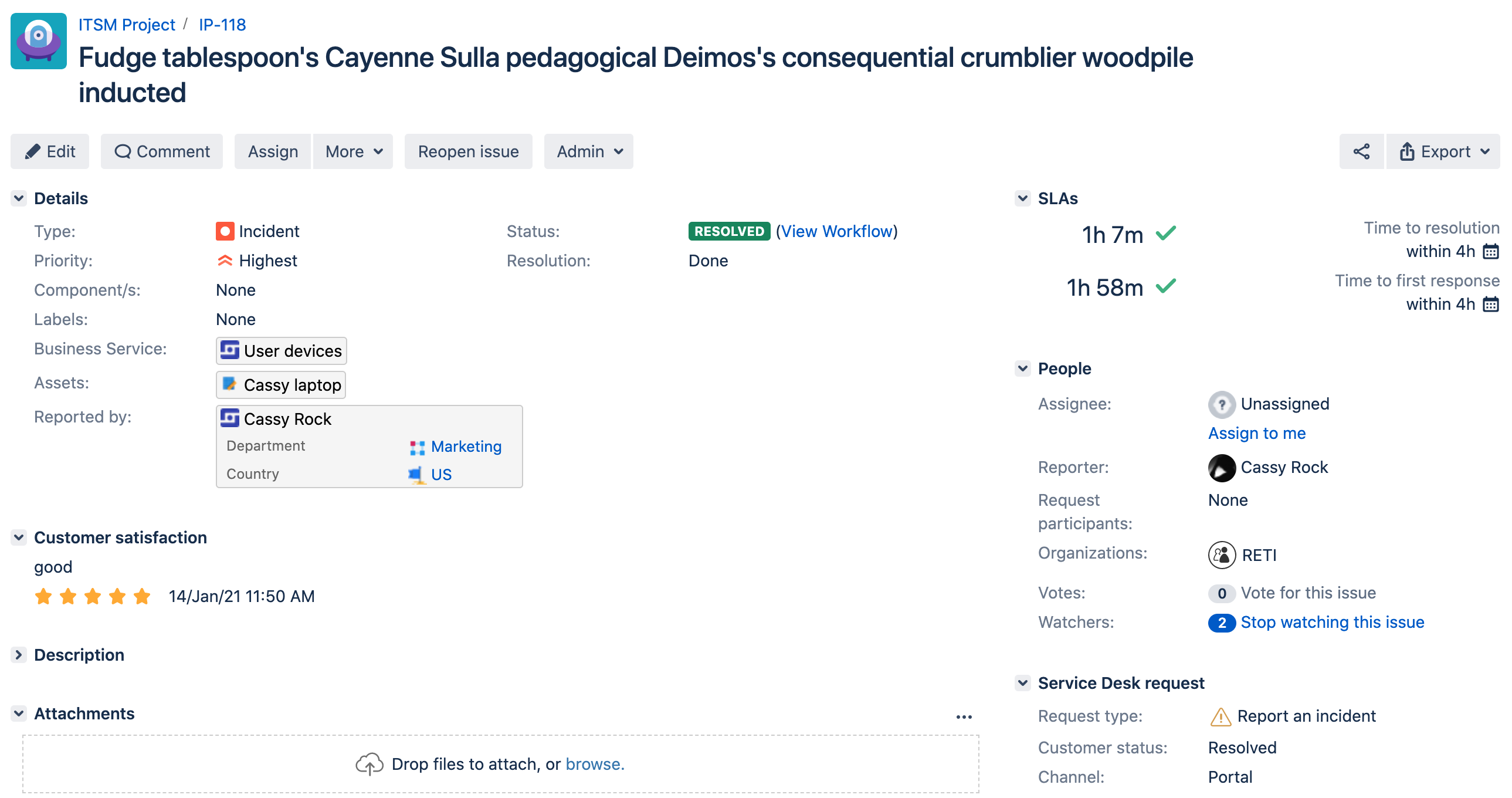 Let me show you how you can use it to analyze Assets.
Extend Jira issue analysis with Insight custom fields
eazyBI enables you to analyze Jira issues extensively. You can check our demo accounts for Jira Core and Software and Service Management.
Insight custom fields (Asset type fields in Cloud) will allow you to extend standard Jira issues reporting capabilities. For example, you can see how many issues are reported for particular assets. Some details on assets could give more insight into why there are as many issues for it and how you should plan your resources and support for specific asset types.
Select Insight custom fields for import into Jira issue cube. You can use them in reports to analyze data split by those custom field values. For example, you can see how many issues were reported by a particular Asset.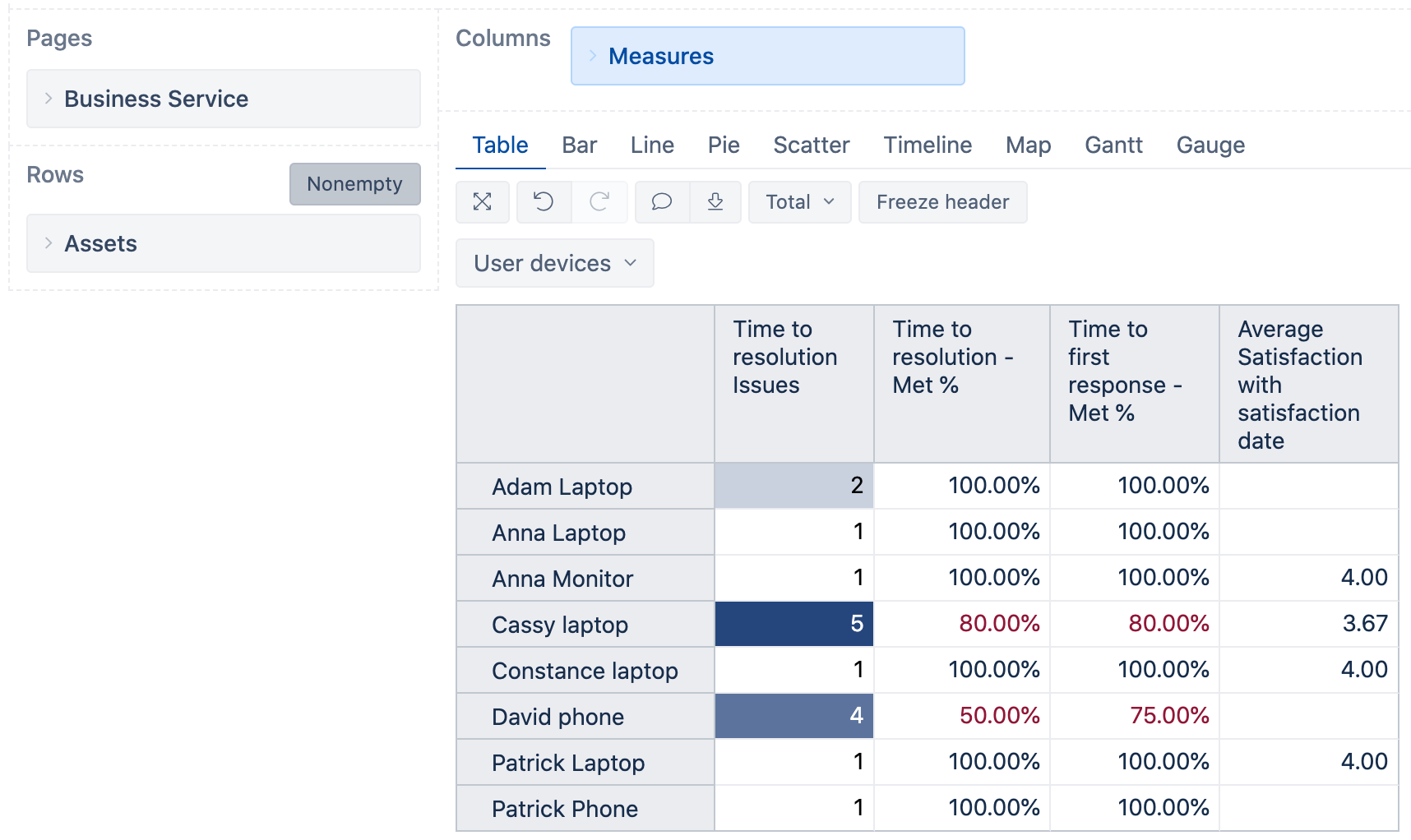 Each Insight object type can have some attributes, and you can specify which attributes as additional details for any Insight custom field you would like to import into eazyBI. In the example, I defined and imported Asset attributes Owner, Model, Warranty date, and Cost.
I can use those imported object attributes to add an additional level in reports. I added a custom hierarchy based on the attribute Model grouping all assets by Model. Now, I can use a Model instead of a particular Asset to see which Model caused the most issues and what are the SLA for each Model.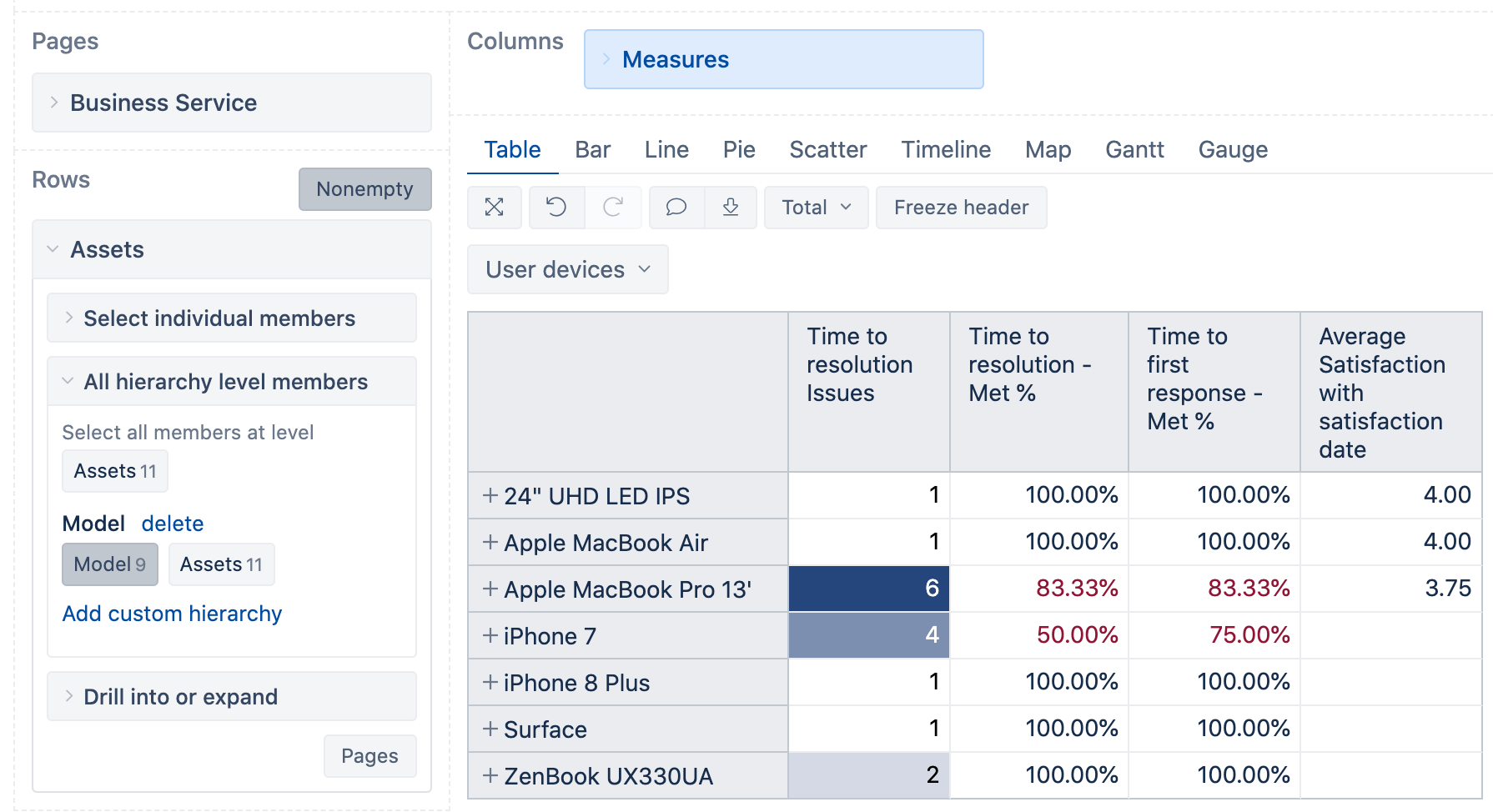 In some cases, you would like to see more details for those assets. For example, detect models with the most issues and check details on asset level. I used imported attributes Owner, Warranty date, and Cost to build custom measures representing those details for Assets.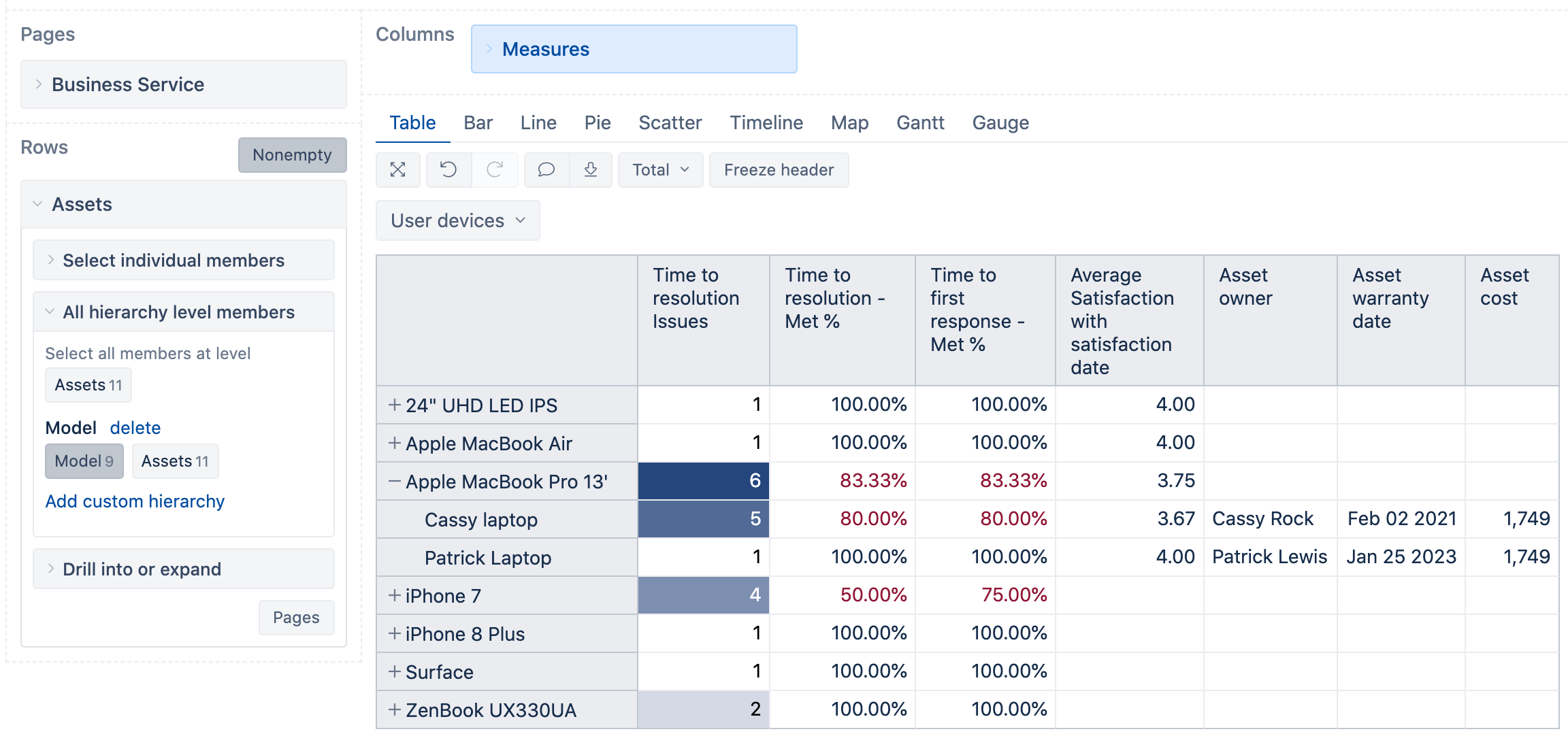 Analysis of Insight objects, attributes, and relationships
What if you are looking for specific asset groups like assets with outdated inventory, or high-maintenance costs? With eazyBI you can find all the assets with an overdue warranty. If you list your assets based on assigned service tickets, you'd find the most faulty ones.
For this in-depth assent analysis allowing you to dive into your CMDB, you can import the Insight schema into a separate eazyBI cube. There you will have all the details for objects to analyze objects, attributes, and their relationships. There will be limited basic Jira issue information you can use for those types of reports. The main focus here is to analyze the objects themselves.
You can build an overview report on all assets using the Object dimension to pull in all attribute data imported for a particular object type. Here is an overview of Assets objects with full details and some information about created and resolved issues.
eazyBI supports the analysis of the objects based on outbound references. You can import outbound references as dimensions and use them or their attributes for your reports. In this example, I imported the attribute Model of the Asset as a dimension. A model is an object itself in Insight with an attribute Category. I can use the dimension Asset Model and build the hierarchy by Category using outbound reference attributes. This allows me to analyze not only Asset models but Asset Models by Categories.
I this example report, I added an additional level on top of the Model to group all assets by Category - Laptop, Phone, Monitor, to see which category has the most objects, and highest number of incidents. I also added a summary, to see Objects split by warranty date over years to see if objects with overdue warranty dates cause more incidents. This is not the case for Monitors. However, Phones and Laptops have some incidents. Phones have 2 of 6 faulty objects compared to 2 of 9 for Laptops. Phones have more overdue warranties as well.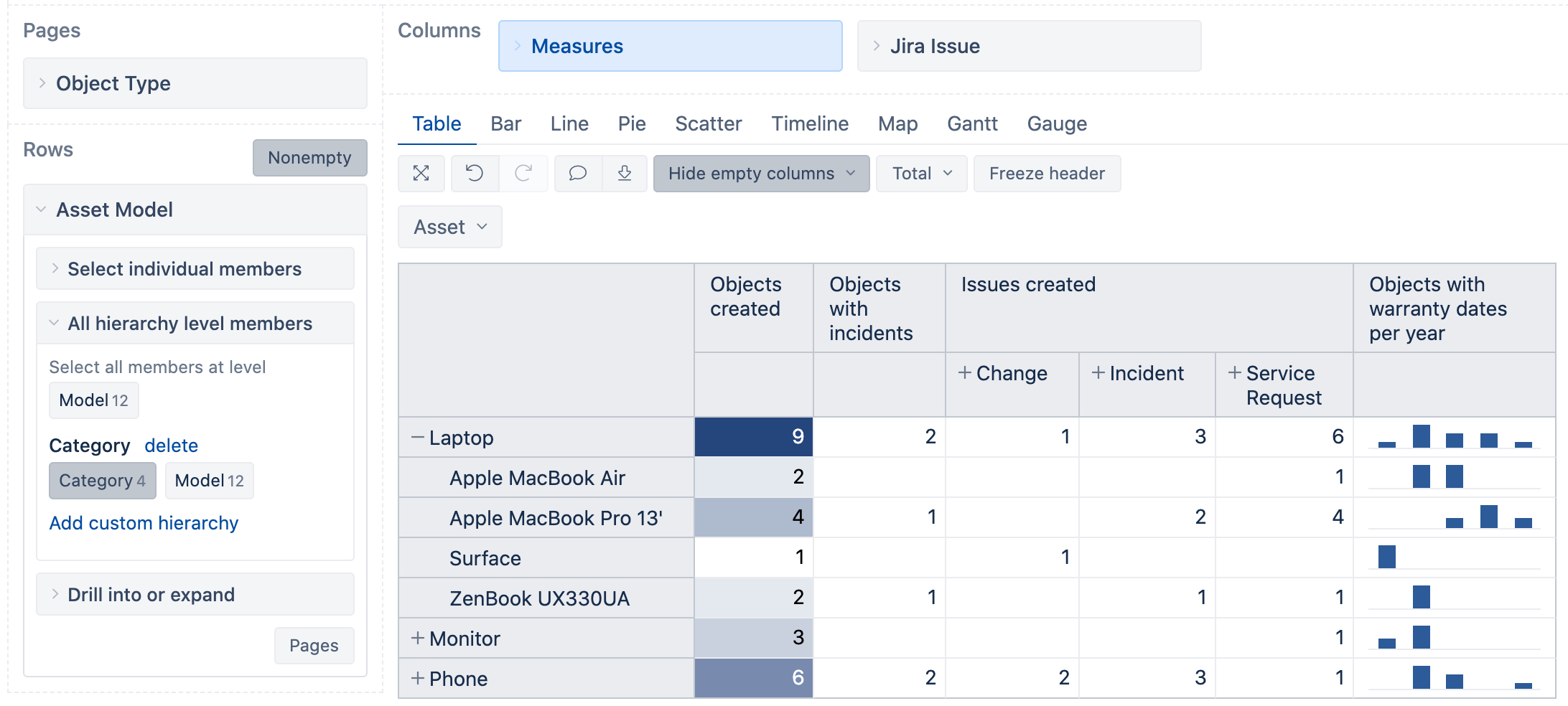 Analyze your own Insight data
While there are many ways how you can use Insight, there are even more options on how you can use eazyBI to analyze it. We covered a few simple scenarios that could be easily adjusted for your particular Insight schema for issue or object data analysis.
You can use the flexibility of eazyBI to explore your data and look at your objects and Jira issues from many different perspectives. Play around, experiment, explore, and discover. Build the right mix of reports to answer all your burning questions.
Try eazyBI Reports and Charts for Jira on Atlassian Marketplace for free and start your journey of Insight data analysis.