Jira Reporting for Project Teams—Build Custom Reports in Jira
Take your Jira reporting to the next level. Build custom reports in Jira, visualize and analyze Jira metrics with the leading Jira reporting tool. Easy-to-use report builder, custom charts and dashboards, powerful calculations.
Atlassian Marketplace Top-Rated
Cloud Fortified
Better Jira Reporting—Better Tracking, Planning, Execution, and Forecasting
Leading Jira reporting tool on Atlassian Marketplace.
Measure and analyze your project and business KPIs.
Reduce estimation errors or ineffective resource allocation.
Prevent major mistakes from happening and repeating.
Identify trends, threats, and opportunities.
Keep teams informed, productive, accountable, and responsible.
Optimize and improve workflows, processes, and procedures.
Make well-informed, smart, data-supported decisions.
Powerful Jira Analytics
Measure, analyze, and visualize your Jira metrics with the leading Jira analytics and reporting tool. We'll take care of the underlying complexity of Jira—the eazyBIs Jira data model enables you to access to all your Jira data instantly.

Manage workflows, projects, epics, stories, subtasks, and custom fields. Start with pre-built Jira reports from the vast eazyBI report library, or build your own custom reports from scratch. Analyze data from other Jira apps, or external data sources—all in one place.
Many Data Sources
Analyze and visualize data from Jira Software, Jira Service Management, and many popular project management, test management, time management, or asset management apps for Jira. You can even add and analyze data from external data sources like
SQL, REST API, Google Sheets, Excel, Git, and more.
Custom Reports, Charts, and Dashboards
Create custom reports, charts, and dashboards with an easy-to-use drag-and-drop report builder. Create new tables, charts, reports, and dashboards with just a couple of clicks. Quickly discover new insights and opportunities with all your data at your fingertips.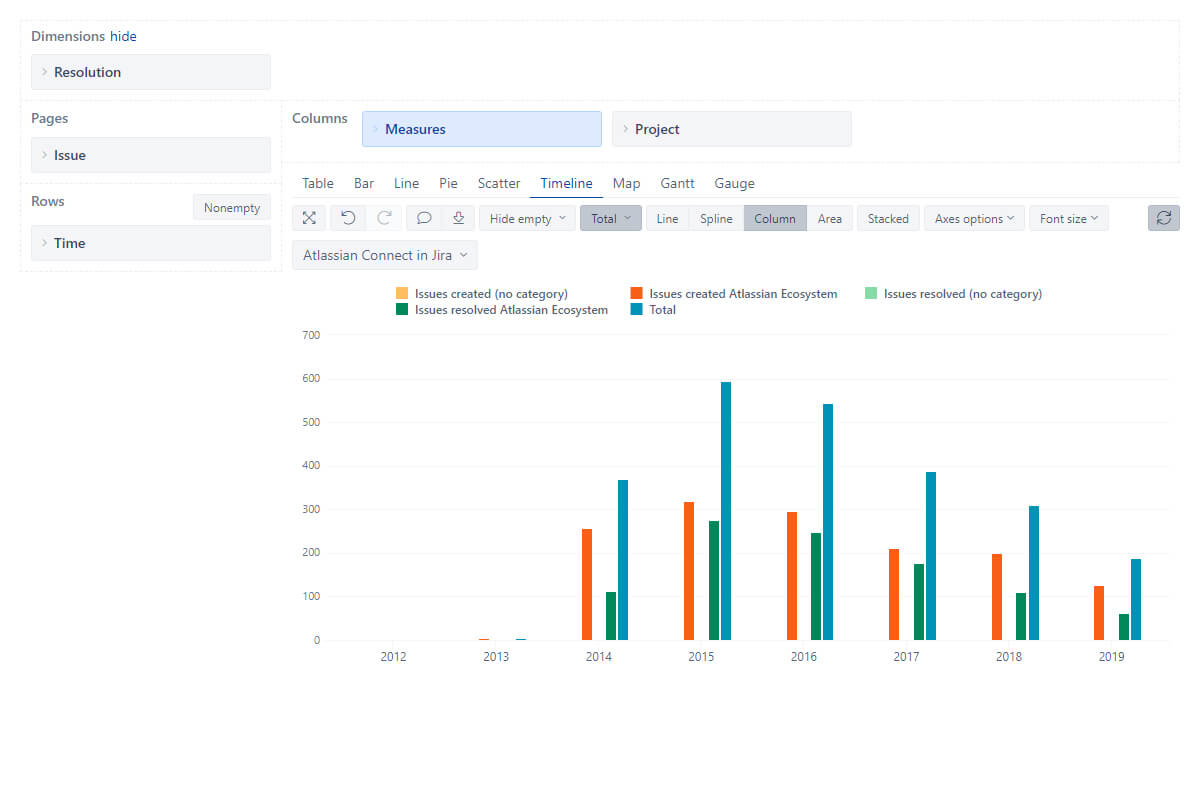 Interactive Data Analysis and Visualization
Explore and analyze your data with an instant feedback. Start with a summary and dig into details to examine your business data with multi-dimensional analysis. Drill-in or across other dimensions right from the report. Find actionable insights, trends, and opportunities, make smart and data-driven decisions.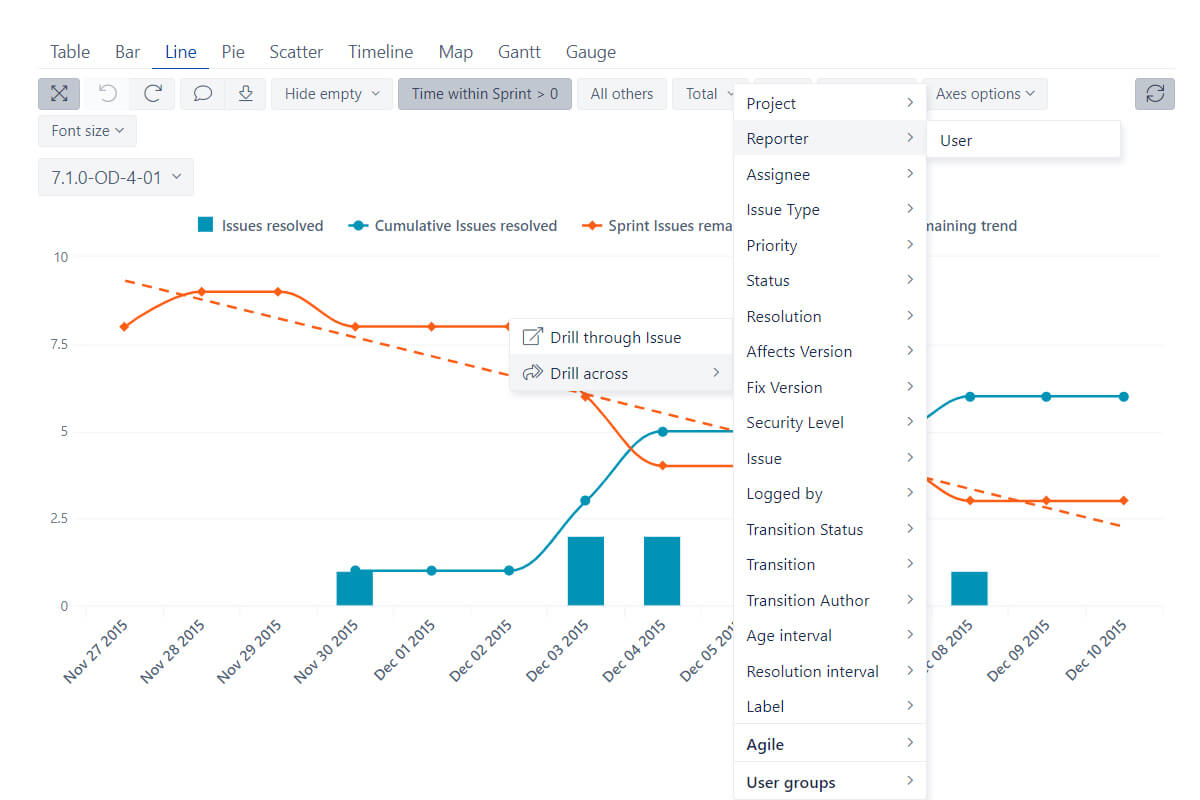 Powerful Calculations for Advanced Users
Go way beyond basic analysis by creating new measures and powerful calculations. Start with many predefined calculations or write your own using the built-in MDX editor with auto-complete and syntax highlighting. Perform multi-dimensional analysis and examine your business data in almost any way you need.
eazyBI is simply the best analytics tool for Jira, I would recommend it 100% if you have complex reporting requirements.
We have been able to build a sophisticated set of operational metrics for our organization, which are now being used to drive operational efficiency and strategic decision making.
eazyBI is simple yet incredibly powerful - very quick to integrate with your existing Jira data, including custom fields. We've also been able to connect it to our Salesforce org via REST to pull in external data.
We've had some pretty complex reporting requirements, and the eazyBI support team is second to none - always quick to respond, friendly and helpful. They even helped us implement a complex custom solution for a particularly tricky report we wanted to create.
Give eazyBI a try, you won't be disappointed.
Our organization is on a Jira Server (2000 user) license and we have been looking for a solid BI solution. After playing with the eazyBI demo for a few weeks we went ahead and got the annual server license.
I must say that I am very impressed with its flexibility to build even very complex reports. There are almost endless opportunities to build meaningful reports and we have yet been only scratching the surface of its capabilities. One of the most important points to mention is their awesome tech support! Emails are answered promptly and are very helpful.
I needed some support during the initial setup and with performance tweaks and now the system runs very smooth. Furthermore, all of my questions regarding specific report measures have been answered to my absolute satisfaction.
Highly recommended!
I can't rate this app highly enough. It has made so much difference to reporting and visibility in our company. It's easy to create basic charts so that our Exec team use it themselves with little explanation. And it's powerful enough to do really complex charts, import Jira custom fields, and define custom dimensions and measures. We can also do reporting for our Salesforce database via REST API import. It even works with Confluence so we have live data within documents!
I love that you can drill-into any chart on any parameter. Starti with a top-level chart and drill-in to specific month, then issue types, then who's got them assigned, etc. — whatever parameters you like in whatever order. That's regardless of whether the chart is in eazyBI, on a Jira dashboard or anywhere else.
The support is second to none. Responses are fast, professional, patient and really helpful. Highly recommended!
We started using eazyBI tool for creating dashboard and reports. The management is happy with kind of statistics we generate out of it and the tool has complete capability to design any kind of reports with right data setup done and available in Jira/Xray.

Great tool and extraordinary help and support provided from eazyBI support for all the questions and clarifications. Their response is quick and answers are exactly matches to our requirement.

Keep up the good work and looking forward to see more and more features enabled.
Jira power users will often reach the end of the reporting features that come out of the box and look to their Jira admins to provide much more extensive tools.
Many of our clients have been downloading issues from Jira and processing the issue data in Excel to create complex reports. They spend hours (or more!) doing this manual data manipulation each month, and sometimes even then making screenshots and pasting into Powerpoint!
It's a big priority for me to free people from that cycle and save them sometimes hundreds of work hours a year by bringing best-in-class statistical tools to Jira that report on live data right inside of the dashboards, either in Jira or Confluence. We expand Jiura reporting capabilities exclusively using eazyBI.
Customers often ask me for a reporting system that will let them easily pull metrics out of Jira, Confluence, Bamboo, as well as external databases that are unrelated to the Atlassian tools. They want to interrelate that data and get meaningful metrics so they can know how well they are using their Atlassian tools and what type of return they are getting on their Atlassian investment.
I always recommend eazyBI – an easy-to-use Jira app that lets you pull metrics out of Jira or any other database and then chart this data in a way that transforms it into useful business intelligence.
You can quickly customize reports and define custom calculations — a self-serve option for producing your own reports in a secure way. Using eazyBI removes the hidden costs associated with creating your own reporting system.
Absolutely fantastic tool which makes reporting in Jira super powerful. The only caveat is that it has a steep learning curve and I would say the help files and tutorials are not so easy and complete. To compensate the eazyBI support team is super helpful and willing to solve even the tiniest of issues you might have. This app is worth every cent you pay for it.
Great BI solution for Jira! It gives us all the freedom to create reports with Jira data and external SQL data. Reports are easily understood by our business with all the flexibility they require. And the best of all: If support is required we can count on very helpful and competent support team from eazyBI!
eazyBI is simply the best analytics tool for Jira.
I would recommend it 100% if you have complex reporting requirements.
Excellent support.
Fills all the reporting needs lacking in Jira server and extends outside that with multiple sources supported. Easy to get started but can also fill the more advanced needs if you invest your time. Always there to answer your almost too vague questions are a very skilled support with an open ear.
eazyBI is a solid, interactive, and user-friendly platform for reporting data from Jira. It has the ability to import data from other sources, embed reports, and features a flawless and interactive UI. Their support has fantastic documentation and as others have mentioned, they lean toward LIGHTNING FAST on their responses to support requests.

Charts, dashboard gadgets, and easily created custom measures: This app is THE choice for Jira reporting needs.
Couldn't operate our ITSM focused implementation of Jira without this and the Riada Insights plugins. eazyBI is such a wonderfully powerful and feature rich reporting platform, and the ability to import data from other SQL servers and REST API's has opened so many doors for creating client facing dashboards in Confluence with Jira and data from our other support tools.
"Must have" tool for Jira! State of the art reporting design and functionality, great integrations with Jira products and wide range of external sources. Support is awesome!
Start a 30-day Free Trial
Try eazyBI free for 30 days to see if it's right for you. If you need any help or support, feel free to reach out to support@eazybi.com—we're there for you.
Try Now
Questions, Feedback, Support, and Documentation
Please feel free to contact eazyBI support if you have any questions, feedback, or suggestions. We are always happy to hear from our clients.
For more detailed information about eazyBI for Jira — data import, creation of charts, reports, and dashboards — please refer to eazyBI for Jira documentation.