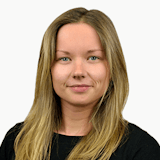 eazyBI: More Than a BI Tool
In our team, I might be the last person involved in eazyBI product development. That gives me another perspective–to see behind the everyday business. We don't just build a great Business Intelligence tool; we bring many other gifts to this world. As it is our 10th anniversary in March, let me give you a short glimpse of what else is going on at eazyBI.
For a few years now, eazyBI takes part in the #pledge1percent movement that encourages companies to pledge 1% of their product, equity, profit, or staff time to a charity of their own choosing. We make annual donations to certain local NGOs that stand for anti-corruption, public transparency, and social inclusion. We see these aspects as a foundation of a cohesive community in which we desire to live in.
Recently, we also started to support local funds that modernize mental health services and help medical workers. Those are not randomly chosen charities; we put enough time and effort into choosing organizations that do great work for our community.
Occasionally we expand our horizons and focus on more global initiatives. When the world was still doing business in person, we boarded a plane each time we wanted to attend an event. We calculated (yes, we love data) that our carbon footprint per year is around 11 tonnes of CO2 solely for business travel.
It turns out there is a price for every tonne of CO2 we emit. For example, if you know a trustworthy nonprofit that mitigates climate change, you can offset your carbon footprint by contributing to renewable energy projects. So, we took care of our soul on this one. It may sound like a simple idea, but it guided us to become more conscious about our corporate actions.
Now we commit to also making other small steps:
local suppliers as the first choice,

no more printed documents,

swags with less packaging,

edible gifts etc.
Oh, and one of us switched to an electric car.
Aside from inspiring and supporting this company culture, many of our teammates take matters into their own hands. They share their expertise and skills by examining a bachelor thesis for university students, developing the information systems for non-profit organizations, giving lectures to the local start-up communities, and even translating scientific texts. Every year, some of our bright minds become mentors and participants in the Latvian Open Data Hackathon, aiming to develop innovative solutions for services to local governments, their residents, and businesses. Did I mention they do it during their free time or on weekends? If you're reading this and wondering how they manage this, you're not alone. However, last week I read an article on neuroscience. It said that the feeling of giving biologically could be as thrilling as the pleasure of eating a tasty ice-cream on a sunny summer day… just saying.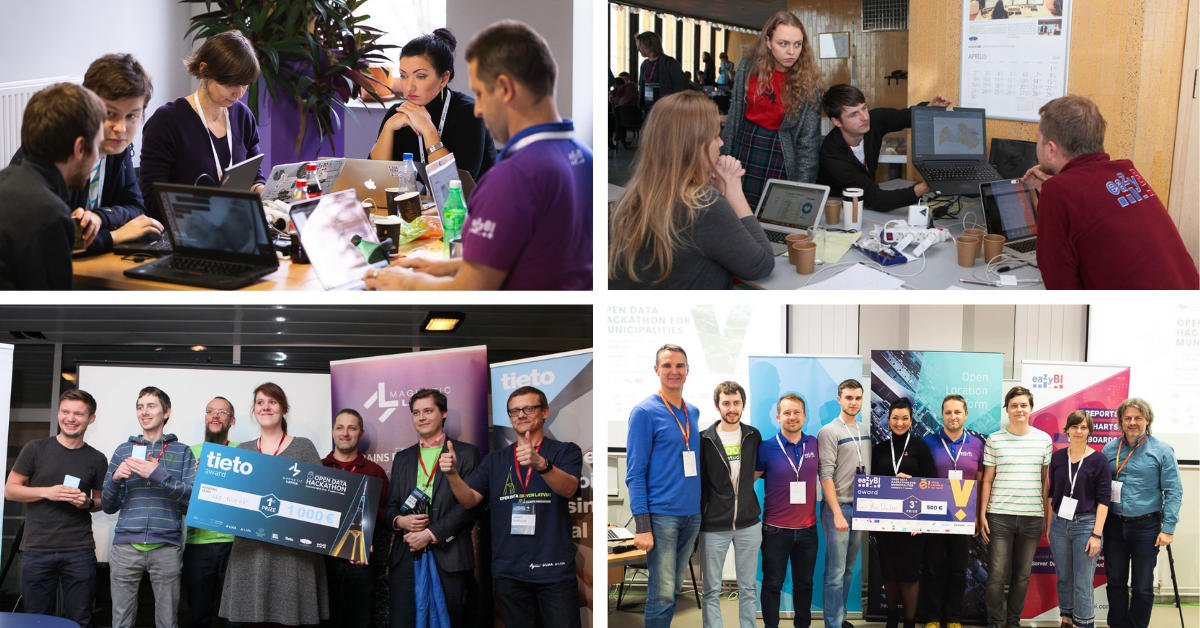 eazyBI team taking part in Open Data Hackathons in Latvia
I can't go on without mentioning that the last year was like no other. Coronavirus unleashed a new era for everyone. We felt there is something we could share with others. While eazyBI has been a remote work company since its inception, for many local companies, work-from-home set-up turned out to be a significant adjustment.
We hosted a webinar in Latvian about how to work remotely without giving up productivity and/or sanity. It led us to organize a public discussion with other experts and remote work opponents. We felt proud that more and more people noticed all the benefits of this kind of freedom that you get from not being compelled to go to the office.
Yet, we understand that working from home during pandemics is a different story. Families with kids had to face (still do) many problems when studying from home became a reality. Often it wasn't about how to use technology but whether every kid has a device to use. Alongside other companies, we helped rural schools to buy devices for pupils facilitating at-home learning to stay connected with teachers and classmates.
Education is something we all care about – a lot. Everyone is constantly signing up for new courses and conferences. Two of our teammates took on a yearlong mentoring job for school teachers in computer science and programming.
"I wanted to keep my commitment to volunteer 1% of my time. Tutoring was something I felt confident about," says one of them.
Simple, maybe… but not easy. He admits that it takes a lot of patience. Sometimes you also become a therapist or at least a comforter to teachers. But both of them agree that it's worth it and you get back even more. "I have developed a better understanding of the subjects I instruct because I get to see them in a different light. I hear unbelievable stories, and I can learn from other professionals".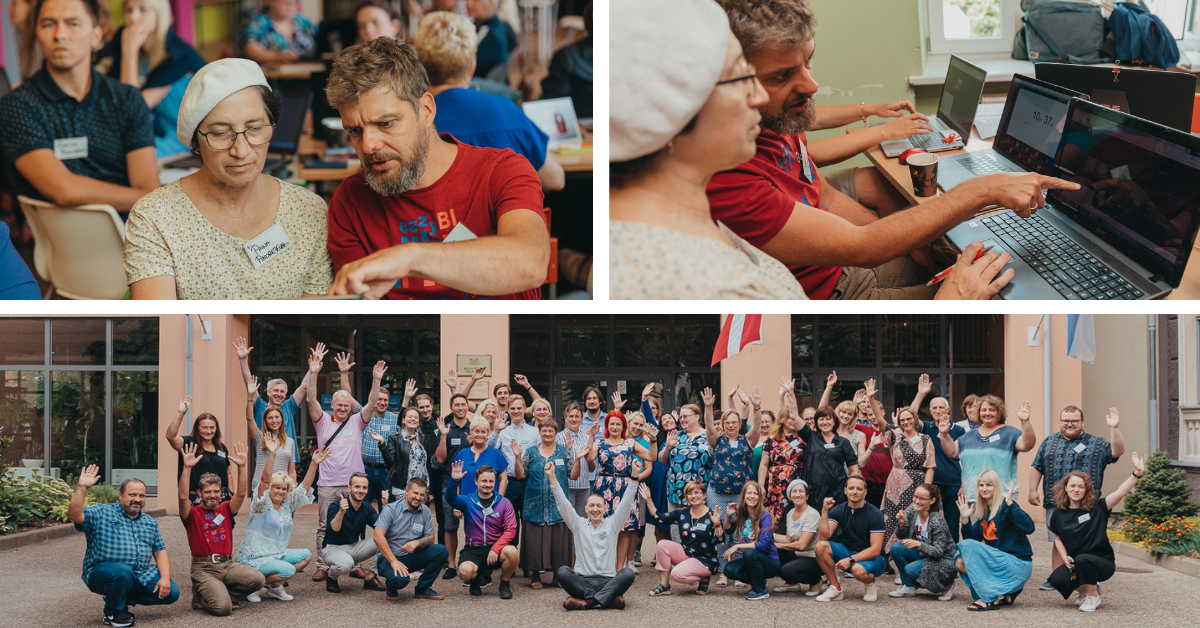 Jānis and Jānis from eazyBI at the StartIT teacher mentoring program
We inspire each other and create our company culture together. I'm happy to be a part of it and looking forward to seeing what happens in the next decade. Whatever the future may bring, I'm certain that this passion and active interest in the community's well-being is not going anywhere.
Learn more about eazyBI: