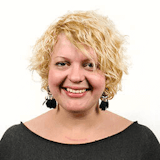 Two Partner Events and Why They Moved My Heart
After attending Atlassian events of two eazyBI partners last week, I came back home inspired both professionally and humanly. And a little bit in love, too.
I attended two partner events during the last week: the first TeamUp! event in Belgium, organized by ACA IT, and, two days later, Valiantys Enterprise day in Paris.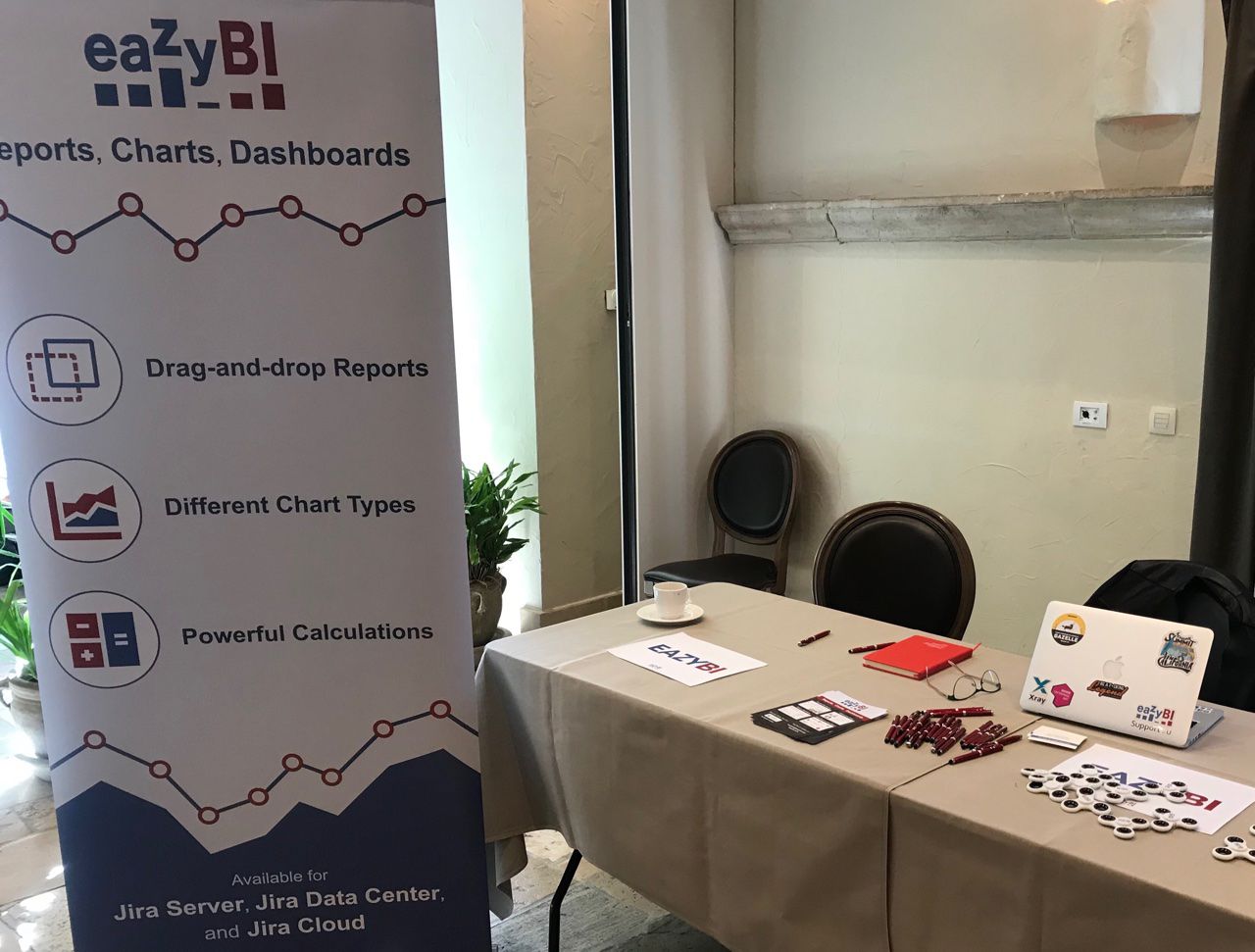 It is a great honor as well as a responsibility both - to be invited to the very first event hosted by ACA IT, and to be a recurrent attendee of Valiantys days. eazyBI has participated in more than five Valiantys Enterprise days in the last few years.
Despite the different degrees of the event maturity, both events were well organized, welcoming and both hosted around 100-150 attendees and 6-7 partners and vendors. Such volume of an event means a lot of personal conversations with customers and partners.
Talking to customers always is an enlightening process. You can never guess about many diverse ways how your product is treated. Moreover, how your product is expected to be handled.
During these partner events, there are always a couple of customers who just come by the eazyBI booth just to say, "Hi, we use your product!" We love it, so please, keep doing that!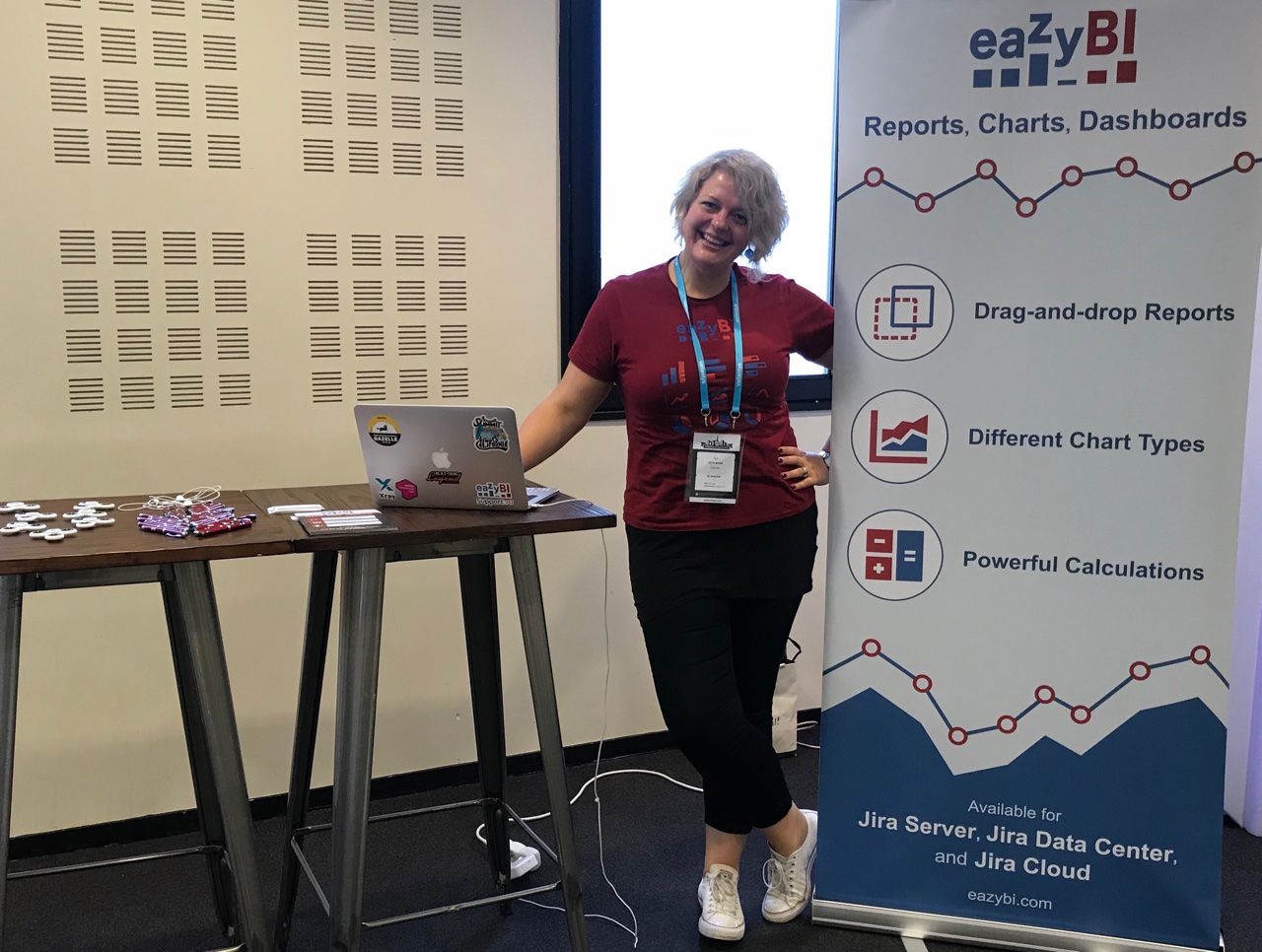 Then there are always a few serious gentleman with a prepared list of specific questions, saved for the opportunity of meeting someone from the eazyBI team in person. I have noticed that those lists of questions are exceptionally gents' thing.
The format of those partner events gives us the time to dive into each customer's story. If we have time to understand our customers, we are able to suggest to them better ways of using eazyBI. This helps them improve their reporting rather than focusing only on general applications of eazyBI.
In both events, I presented for a wider audience how eazyBI reporting could be used for different teams.
My obsession and firm belief is that:
There are no superheroes and sparkling unicorns, just hard working and united teams.
This belief helped me formulate the story for my presentation: "Reporting, done by the team itself, could be invaluable to communicate within a team and with other teams."
I shared how eazyBI not only supply building blocks to create reports but also provides several meaningful out-of-the-box sample reports for Agile, Service Desk and test teams to empower them using eazyBI for Jira, not just receive data from the management.
In Belgium, I also led a 3 hours long training workshop. Business intelligence concepts are never easy to explain or grasp, and we are still looking for the best way to help understand eazyBI.
I was happy to flow with the spirit of the audience (more than 20 people, a couple of them were current users). Instead of covering as many eazyBI features as possible, I dug deep to explain how things work in a multidimensional data cube and why "measures are treasures".
My ultimate goal (not achieved yet) is to find words and examples to explain the eazyBI story in a human language, instead of overwhelming people with buzzwords or technical terminology.
Trainee emotions and questions keep me engaged to look for creative ways to explain things. The audience in Brussels was just perfect for that. Statistically, the number of attendees leaving the training before it had ended: zero.
There is yet another reason why I love these events – fabulous Atlassian community people whom I repeatedly meet. I remember them from Atlassian Summits as their company representatives in green, blue, or orange t-shirts.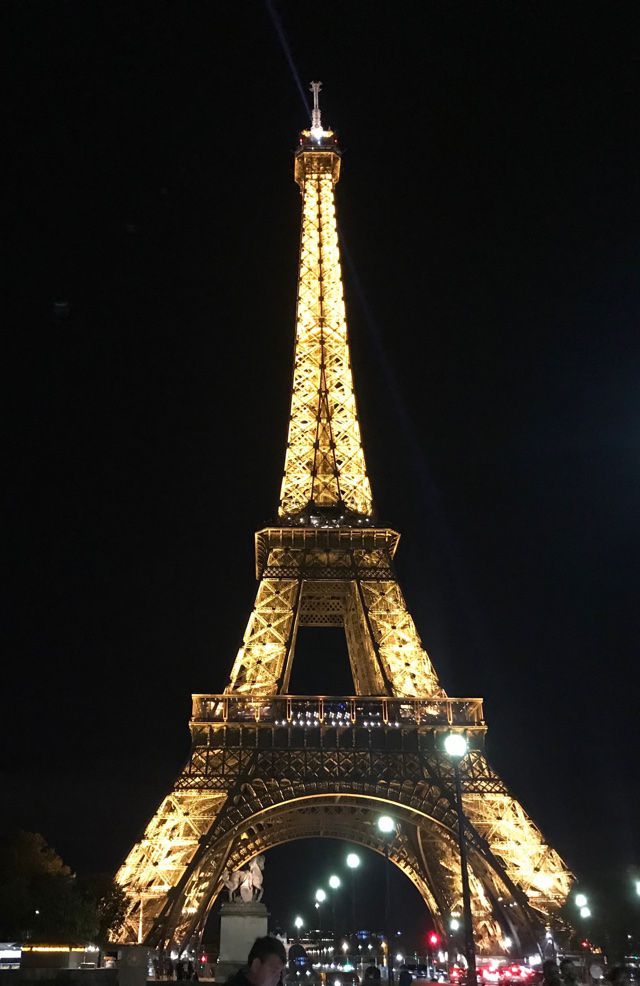 Now I slowly get to know them and they become "real" persons with names, for example, Lisa, Thorunn, Julie, Christophe, Sylvia, Eugene, and others. Each with their own stories and tastes. They are not only great and passionate professionals to learn and get inspired by, they are also open-minded people ready to share their experiences and cultures.
Everything that was suggested or accompanied by them.
While personal connection with customers and partners is always bittersweet, as it includes both attachment and goodbyes, it nourishes my human part. Sales figures come after that.