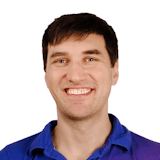 eazyBI 6.1 Release Notes
eazyBI version 6.1 comes with dozens of new features and bug fixes. From Tempo Planner updates, custom property hierarchies, and report specific calculated measures, to various administration, usability, and reporting improvements.
Watch The Webinar
If you just want to know the gist of it, read along… But if you're more of a deep-dive video person, feel free to dive into the 50-min eazyBI 6.1 release notes webinar.
Change the playback speed or use the "Chapters" from the bottom-right video settings to jump directly to the topic you're interested in.
Report Template Accounts
We've always encouraged you to share your report ideas and re-use effective reports across many projects and teams. Often you'd like to use the same set of reports and dashboards for each of your projects and teams separately. While you could do that with some manual exporting and importing of report definitions, any report improvements had to be updated manually.
In eazyBI 6.1 we are introducing report template accounts. It's a much more convenient way to share and update a set of reports across many accounts.
Now you can set one or several accounts as template accounts and then use them in your team and project accounts. eazyBI will automatically update all your reports and measures from the template account whenever you import templates into your team or project accounts. This way, all reports in your team and projects accounts will be up-to-date and you will be on the same page with anyone in your company.
When creating a Reports template account, just select the check-mark under the account description.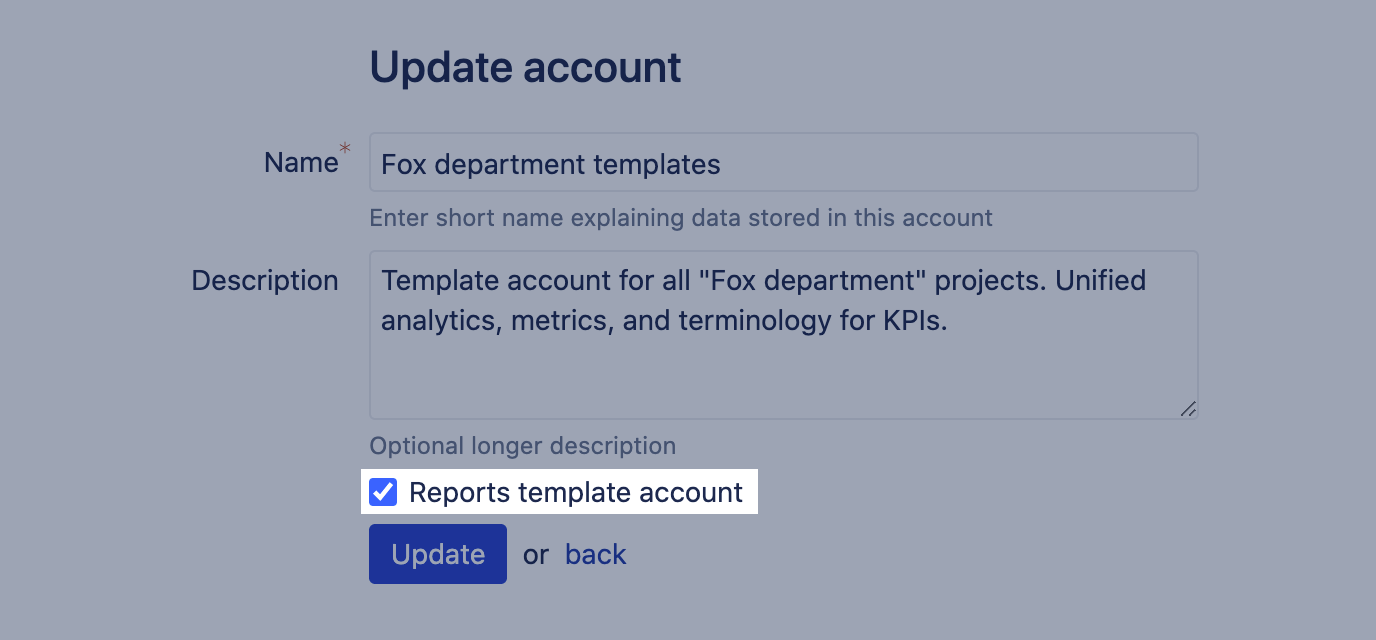 Whenever you want to import reports, dashboards, and calculated members from a template account, go to Import options > Additional options, and select one of the available template accounts

You can learn more about eazyBI report template accounts in eazyBI documentation.
Tempo Planner and Tempo Teams
Tempo Planner allows teams to manage resources and capacity in Jira, providing a real-time view of all resources, their statuses and plans.

Tempo Planner data import was already available on Jira Cloud. But starting from the eazyBI version 6.1 it is now available on Jira Server.
eazyBI now imports a new measure Tempo planned hours supporting planned time in period per user on Issues and Projects.
We also added a new dimension Logged by Team, as well as a few new measures Tempo planned hours, Tempo billed hours, and Hours spent which will work with this dimension.
Now you can analyze planned time versus actual logged time per user or team.

If you have the Tempo Planner installed you will see the import options for Tempo Planner data in the eazyBI for Jira import options tab.
Learn more about Tempo data analysis in our documentation.
Custom Property Hierarchies
In eazyBI version 5.3 we introduced an option to build custom weekly hierarchies in the Time dimension.
Starting with eazyBI version 6.1, you can now create custom hierarchies in several other dimensions:
In Jira, you can create hierarchies in

Project,

Sprint,

Assignee,

Reporter,

Logged by, and

Sprint

dimensions.
In Confluence create hierarchies in

Space,

Author,

Viewer, and

Task Assignee

in Confluence data cube.
To create custom hierarchies, you can import string or numeric properties and map them to those supported dimensions. Then use these imported custom properties to create new hierarchies.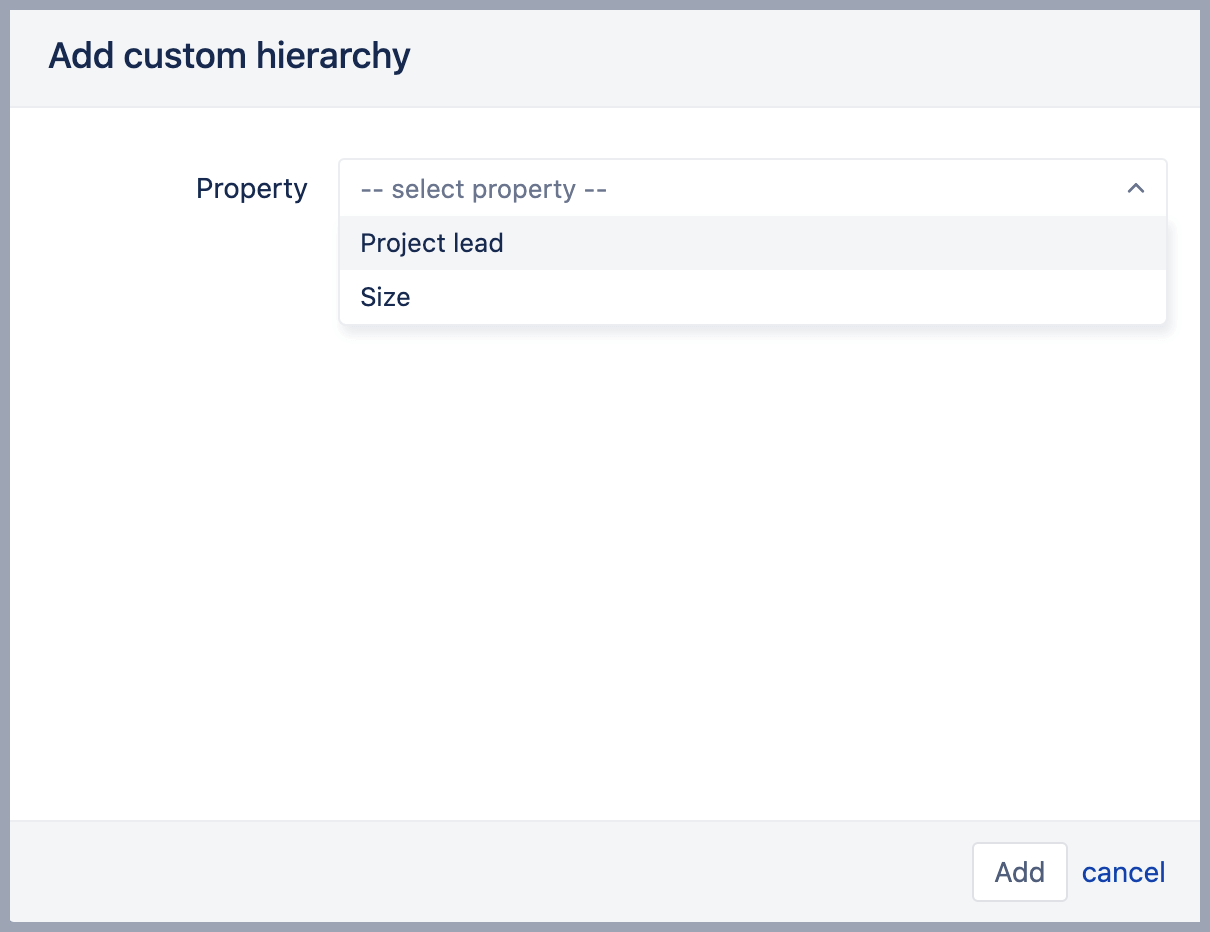 eazyBI will create a new hierarchy with two levels, one representing the property you selected and another representing dimension members.
In addition you can use the new custom hierarchy directly from report creation screen and apply it to your reports.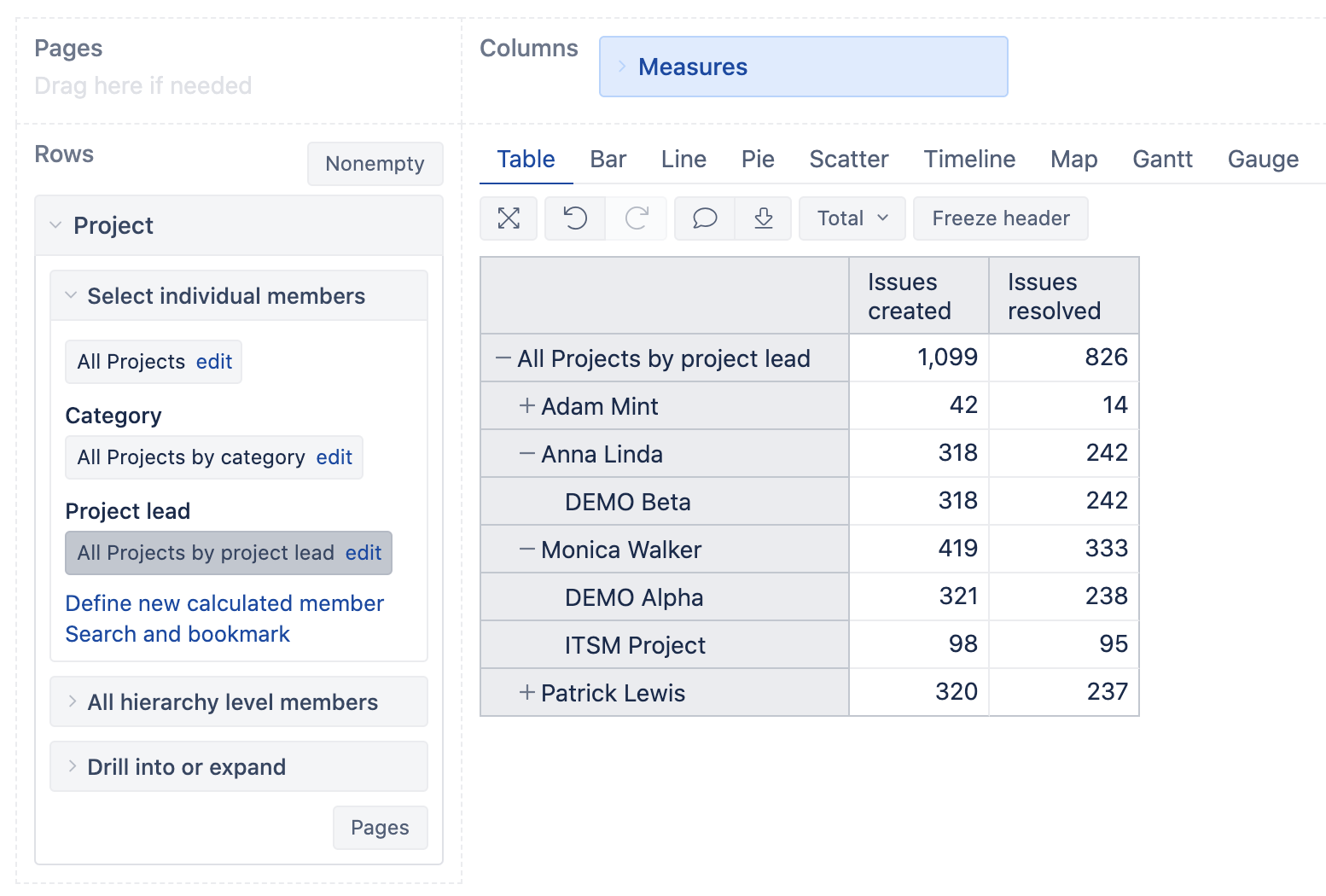 Read more about custom property hierarchies in eazyBI documentation.
Markdown Cell Formatting
They say a picture is worth a thousand words. Would you say that you could also save a few words if you could better highlight and visualize the content in your table reports?
Now you can add links, icons, and even some HTML text formatting to your table reports.
Use the new Markdown cell formatter to make your table reports more interactive. Check the basic use of Markdown for an inspiration. You can even use HTML for more advanced formatting like showing an icon or image as a measure.
eazyBI uses some of the Font Awesome icons and it is possible to refer to them in calculated measures when using Markdown.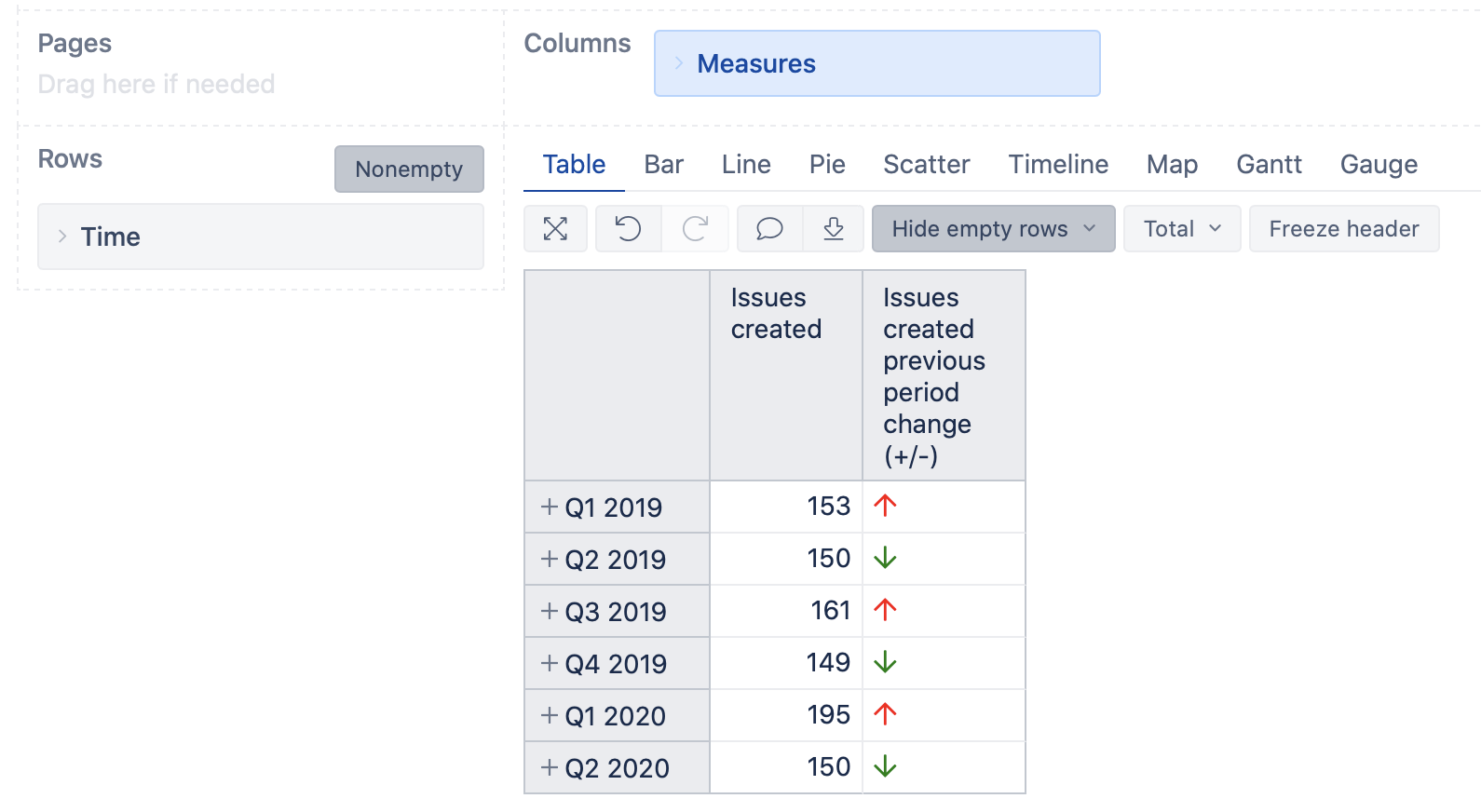 You can have fun and mark your teams with their own icons and colors: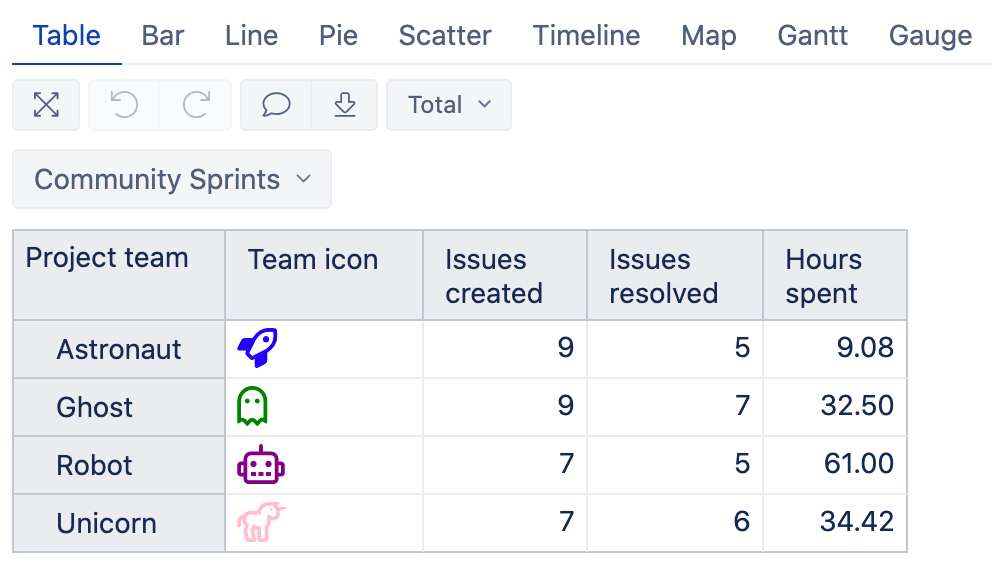 Or, you can even go all-out creative and set complex formatting rules based on your own criteria. Check out this "Formatted Project Overview" sample report.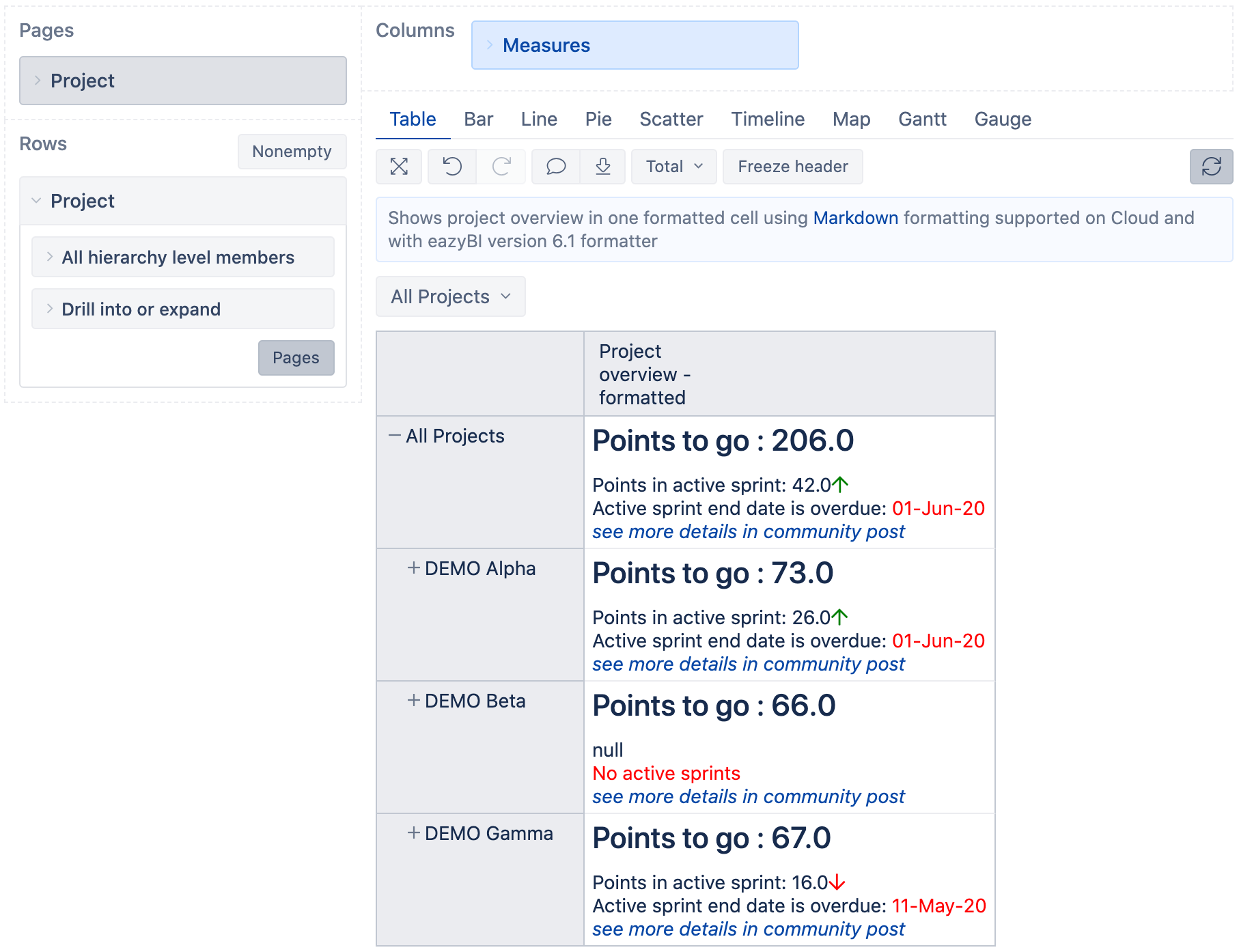 Report Specific Calculated Measures
Those of you who are more experienced with MDX calculations tend to create a lot of custom calculations for your advanced reports.
While it gives you all the flexibility you want, it also has a negative side-effect. Over time, the Calculated measures section becomes crowded with tens and even hundreds of calculated measures. Many of those measures are meant to be used only in one particular report–creating unnecessary clutter.
In eazyBI 6.1 we're introducing report specific calculated measures. You can create a user-defined measure that will only be visible a specific report and will not clutter the user-defined measures section available for all.

This is useful if the measure is not intended for use in any other context than in a specific report. The report specific measures behave the same way as any other user-defined measure, the difference is only in the "visibility" of those measures.
Re-Organizing Existing Measures
Now, at the bottom of the calculation editor for each particular user calculation, you will see a link to calculated measure usage details. This will give you an idea where this calculation is used and whether or not other calculations depend on it.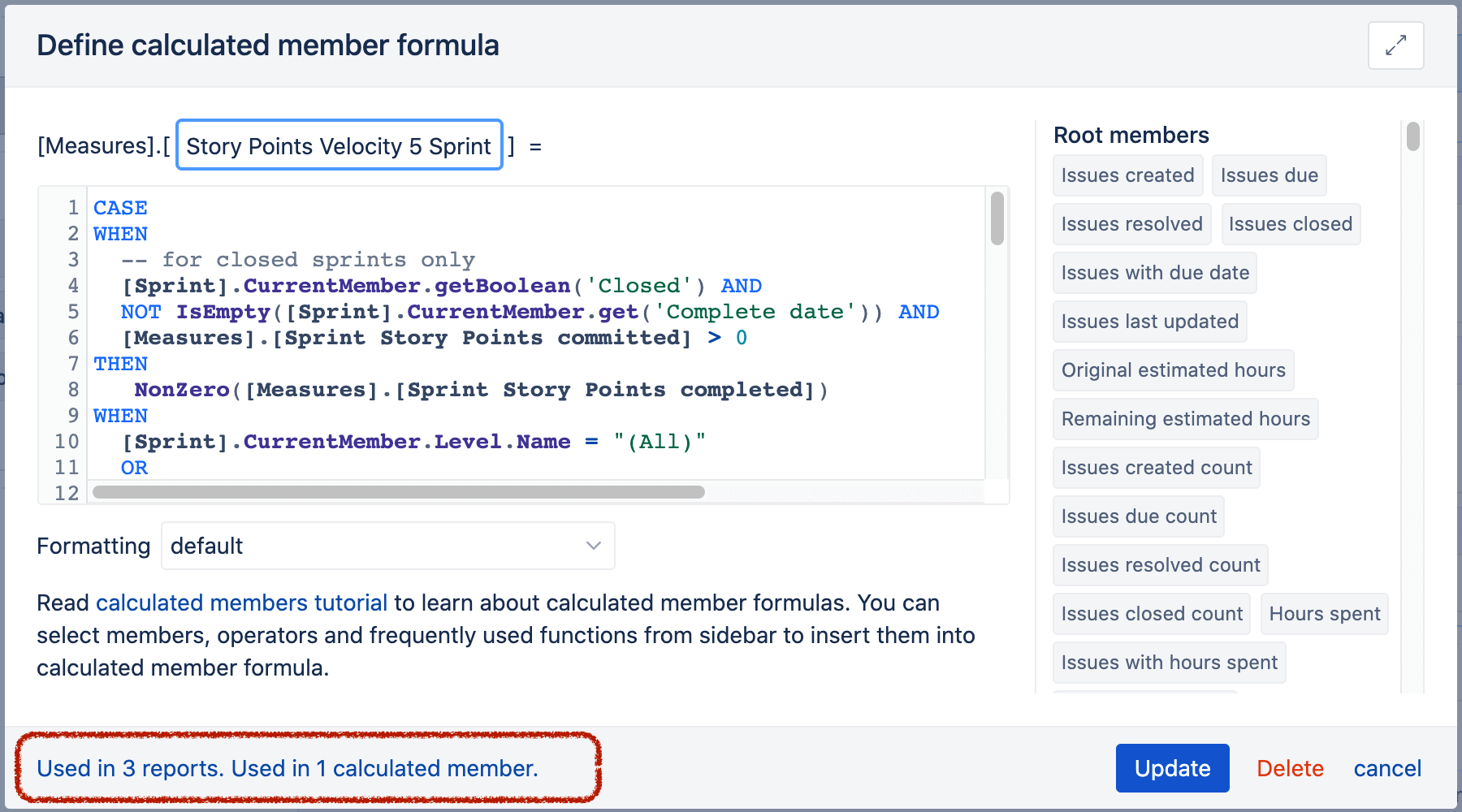 You can see more detailed info if you click the link.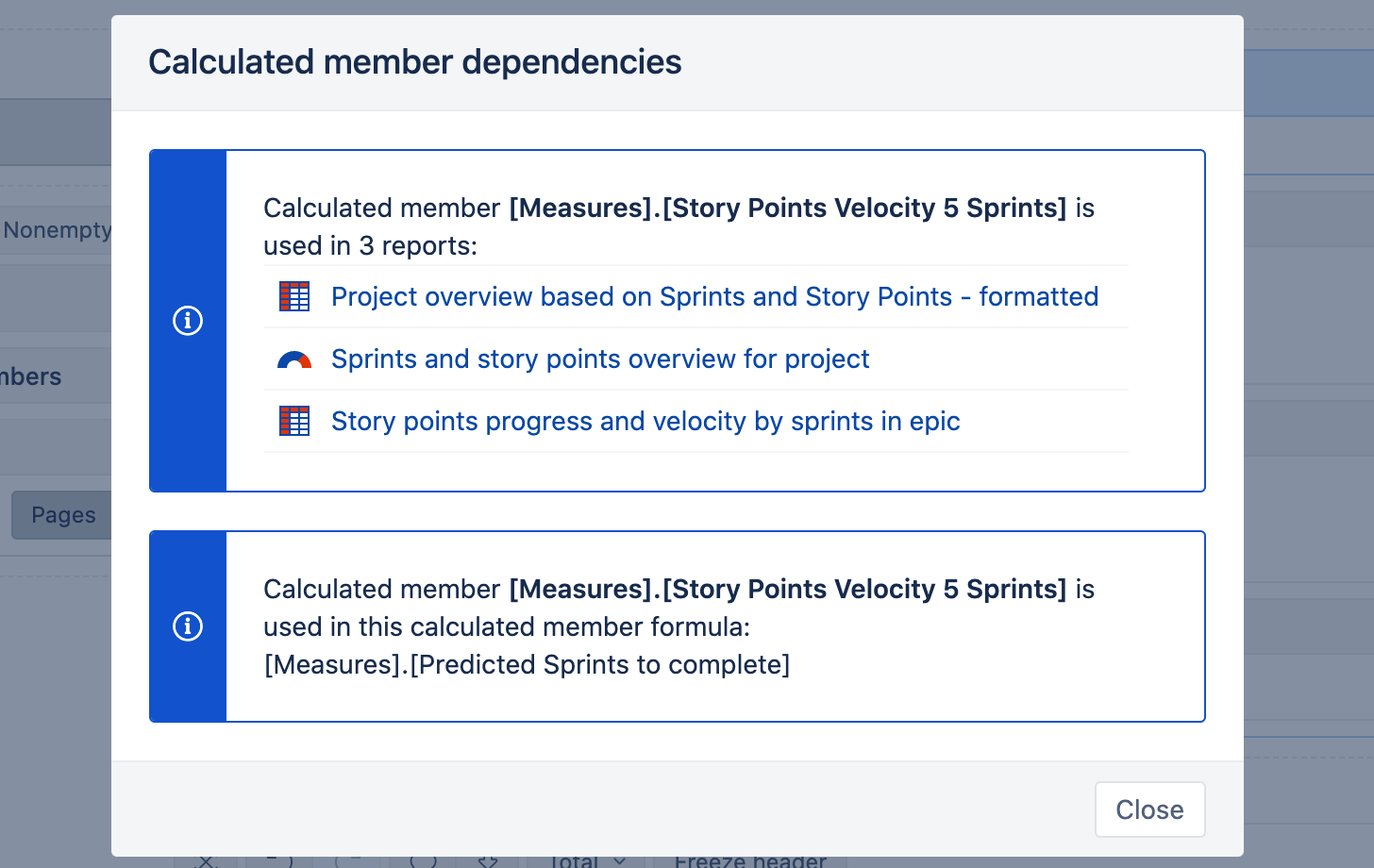 If the shared measure is used only in one report you might consider converting it to report specific measure, thus removing it from the list of user-defined calculations available for everyone.
Full Changelog
In this post we reviewed only a handful of features. For a full list of features and bug-fixes released with eazyBI 6.1 version. To get a full list of changes and bug-fixes, please head to eazyBI for Jira Changelog or eazyBI for Confluence Changelog.